Our server is hosted by OVH in Paris, France and can be found on the SA:MP Hosted Tab.
GamerX is an open world free-roaming server with one of the most unique and versatile SA:MP gamemode. With more than 2500 commands there is something for everyone. GamerX has a large well-structured community of players, helpful Trusted Players (TPs) and friendly Admins.
Originally created by Phantom and Matite, the server has been online since the early days of SA:MP in 2006. Shortly after the server started Phantom left due to personal reasons and Matite (a well known SA:MP member of the beta team) developed GamerX into what we know today. The gamemode code was written by Matite with Rick and Ez. The server is owned by Matite, Stefan and Bloodcell.
Here at GamerX we have a variety of game play features which include events, racing, minigames, combat zones, goo hunts, duels, pursuits, awesome stunt objects, many places to DM and the ability to make player object sets. More features are added all the time as can be seen here!
Check out our server promo video below in HD:
Website and Forum
Our GamerX website has many cool features such as a live players map, live properties map, live overall stats and many other live pages. Our forum is a great source of information and it allows you to keep in touch with other GamerX players. Registered players can use their own live signature that shows their player stats.
GamerX Custom IMG File
We have our own IMG file addon for SA:MP. It comes in two different versions:
Full/Normal IMG - Contains vehicles, skins and objects
Lite IMG - Contains objects only (no vehicles and skins)
The GamerX Custom IMG file can be automatically downloaded, installed and kept up to date by using our easy to use application available here. The GamerX Custom IMG file is updated regularly with new stuff. Some of the models were added to the default SA:MP IMG in the 0.3.7 release (e.g. the LS building with day and night shading, LS Beach Side and many other models). More information about the GamerX Custom IMG file is available here.
Commands
Our server has evolved over many years and currently has over 2800 commands in total. Teleports, actions, vehicles, objects, etc.... everything is covered. A complete list of commands can be found here.
Classes
The GamerX v4 gamemode has 14 classes available that are spread out around San Fierro. Each class has its own skins, weapons and also vehicles in the spawn area. Although GamerX is not a team DM server, you can still join forces with others by using /teams command which allows you to chat with your team mates. We also have support for clans with a special chat that only other clan members can see.
Server Objects
Our server objects are managed by admins which means that things are updated often. Admins can create new object sets or choose to make object sets created by players visible to all. There are currently many stunting objects at each of the San Andreas airports with more available in the /stunts dialog command. Special object sets are at some of the spawn zones will welcome you every time you spawn!
Teleports
We have more than 100 commands for teleporting to different locations or properties. Some of them are available in the easy to use /T command dialog... the rest of them are listed in the commands list. Admins have also saved 200 different positions (slots) to load with the /L command. You can also use special teleport commands to get a free parachute and skydive above your current position or from tall buildings.
Player Actions and Animations
More than 100 animation commands are available as well as some special actions. Players can also use an action command to perform an interaction with other players in the chat area. The full list of actions can be found in the commands list.
Vehicle Commands and Modes
Players can spawn their own vehicle from a dialog list of all the GTASA vehicles (eg bikes, cars, planes, boats, etc). You can also tune your vehicle by teleporting it to any of the tuning locations (/tune). You can also teleport it to one of the stunting locations (/stunts) and do some stunts. Our server has the stunting reward enabled so you can get money by simply doing stunts just like in single player. You don't need to be afraid of damage because auto-fix is enabled by default.
Our server also has many different vehicle modes which allow you to customize what happens when the horn, fire and secondary fire key is pressed. Some of the vehicle modes include: speed boost, jump up, create player object, open or close bonnet or boot, add NOS for free, etc.
Road Trip
You can join a road trip and drive around San Andreas with other players following the road trip leader. If you find it hard to keep up you can use the /rt command to teleport to the last automatically saved road trip location created behind the leader. Road trip chat is also available.
Property System
Want to earn some money? Then invest some of your funds into buying properties in San Andreas. You will then earn money every minute while you spend your time here. Each player can own up to 30 properties for a 30 minute period during which nobody else can buy your property (unless you decide to sell it). After 30 minutes have passed you can sell and re-buy your properties again to continue earning. If you own the maximum of 30 properties you will also earn a bonus cake. If you are online when your property is purchased by another player (after the 30 minute non-buyable period) then you will get a full refund of the purchase price making it easy to earn lots of money!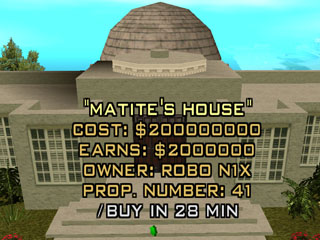 Event System
The Event System in GamerX consists of many custom made maps created by players, Trusted Players (TPs) and admins. Events are started automatically every few minutes. Anyone can join the /event and the winner(s) will get a reward and an event point.
The following is a list of the different type of events we currently have available for you to play:
Death Match (DM) / Team Death Match (TDM)

Death Matches and Team Death Matches are designed so that your death does not eliminate you from the event but instead you are able to re-spawn and continue playing. The event is won by reaching a pre determined death count and/or if the time runs out. The winning team or player will get a reward as well as the player(s) with the most kills. The event is held on a map made up of objects with different weapons and various spawn points.

Capture the Flag (CTF)

A CTF event is consists of 2 teams. Players have to capture the enemy teams flag whilst trying to avoid getting their own flag captured. If both teams are holding flags than they cannot be captured until one of the flag holders is killed and flag is picked up by the team that owns it. If a player dies they can re-spawn into the event instead of being eliminated. The winning team and the player(s) with the most kills earn a reward.

Siege (Attack/Defense)

A Siege event consists of 2 teams... attackers and defenders. The attackers have to capture the defenders base or kill all of the defenders. The defenders objective is to defend their base for a period of time or kill all of the attackers. The winning team and the player(s) with the most kills earn a reward.

Blast Survival

In the Blast Survival event it is every man (or woman) for themselves! Once the event starts explosions will go off randomly around the arena. Your goal is to avoid the explosions and be the last person standing. The winner of the event gets a reward.

Last Man Standing (LMS)

As the name suggests, the Last Man Standing event is won by the player who is the last person left alive. It is set in a custom made map with a weapon set chosen by the author. The winner of the event gets a reward.

Fallout

Try not to fall as the objects below your feet fall away one by one. The last player to fall is the winner and earns a reward.

Derby

The goal in a Derby event is to drive your vehicle around and try to inflict damage on others while avoiding as much damage as possible to your own vehicle. You can also knock other players out of the map. The event ends when all players except for one has been eliminated or the time runs out. Player(s) will then receive a reward.

Sumo

The Sumo event is similar to a Derby except when you die or fall out of the map you will re-spawn in the event. In Sumo you have to collect as much time as possible until your vehicle is wrecked. Once your car is wrecked you will re-spawn with a new car and your time resets. When the event is over the player that survived the longest period of time without getting their car wrecked wins a reward.

Bloodring

In this event players use their vehicle to drive towards a randomly spawned checkpoint and capture it by staying inside the checkpoint for a few seconds. It's not so easy when everyone else is trying to do the same thing! Other players will attempt to push you out of the checkpoint so they can capture it. The winner gets a reward for capturing the most checkpoints within the specified time period.

Hunger Games

Search for food items to reduce your hunger and stay alive the longest. Each Hunger Game uses a custom made map. You can also find weapons to attack and kill other players. The last player left alive will receive a reward.
Racing System
A race is started automatically every 2 minutes and everyone can /join. We disable vehicle collisions during the race so there is no chance of being rammed by another player. Some races include a special map made of objects. Each race uses a single vehicle model such as a car or boat. The first 3 players to cross the finish line win some money. The winner also gets an increase in their "races won" stat. The fastest racer in each race also gets a place on the live leaderboard which can be seen here.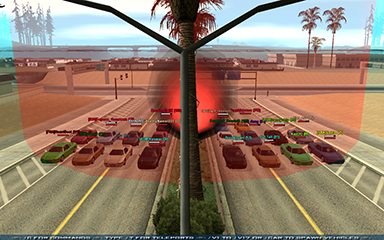 Player Races
If you want a little one-on-one racing then the player race system is for you. Race against someone without being bothered by other players and settle the "who is fastest" argument once and for all.
Mini-Games and Combat Zones
Mini-Games are always open and accessible at any time. At GamerX we have many Mini-Games for each weapon eg minigun, desert eagle, etc. We also have some cool Combat Zones that are made up of map objects.
Goo Hunt
A Goo Hunt is a pickup hidden by admins, most of the time in objects, anywhere throughout San Andreas. The reward for finding it is 1 to 100 cookies. The first 3 players to find it will receive a reward. Trusted Players can also hide a pickup which gives a cookie reward to whoever finds it first.
Pickup Competition
Similar to a Goo Hunt but instead of one pickup there are many to find. It doesn't matter if you rejoin the server as your progress will be restored. The player who finds them all first wins a reward.
Building Player Objects
Any player can make their own player object sets using commands or the SA:MP editing tool. Only the player that is building the player objects can see them, however, anyone can make them appear on their screen using the /RPO command (if the player has not disabled it). The created player objects can also be saved to a file on the server. The saved file can be loaded by anyone who knows the exact name (currently there is just over 99,000 saved files created by players). Admins can convert the objects created by players so they are visible by everyone. Many players choose to create object sets which are then used in events or for Goo Hunts.
Holding Objects
Players can also use the SA:MP holding object functions to create and edit their own holding objects. This allows players to customize their vehicle by adding items such as neon lights or their appearance by adding clothes, weapons and other items. Up to ten objects can be "held" at any one time. The holding object settings can be saved to a file so they can be loaded again later and/or used by other players. Our server also has many pre-made holding objects that can be easily used by choosing them from a dialog menu. More information about how to use holding objects is available here.
Dueling
Players can duel their friends and enemies with the /duel command. There are many different maps/areas and weapon sets to choose from for your duel. Once the invite is sent the other player can choose to either accept or deny it.
Pursuits
Players can start a pursuit with another player by using the /pursuit (/pu) command. The objective is for the chaser to ram their opponent and stick to them for 4 seconds. The player being chased has to get as far away as possible and lose the chaser to win. Better be careful though... there is no auto-fix so you could die if your vehicle is damaged enough and explodes.
Happy Hour
At GamerX we love Happy Hour! When it starts we enable mega-jump, hydras (jet), hunters (helicopter), rhinos (tank) and RC planes for all players. Admins also love to give out rockets and miniguns during this time. It may get a little crazy but it's a ton of fun.
Rewards
When a player is registered any rewards they receive are automatically saved. The most common rewards are as follows:
Cookie - Can be exchanged for a rocket weapon, extra spawn weapon or used to start a manhunt
Cake - Can be exchanged for a sniper weapon
Biscuit - Can be exchanged for a flamethrower weapon
Icecream - Can be exchanged for a grenade weapon
Players can also choose to give their reward items to other players in the server as a gift or reward. Also, admins often give rewards or money to everyone in the server for no real reason at all!
Rank System
In GamerX there are 100 different ranks that can be earned by players. Each rank is earned by killing players, killing admins, increasing time spent ingame, winning races, finding goos, getting event points, etc.
---
Come join our community and play some SA:MP with us... click here to join the GamerX SA:MP Server!
You do not have to register to play but it is required if you wish to save your stats.

Like us on Facebook!
facebook.com/GamerXOfficial
Visit our community forum for discussion and support: gamerxserver.com/forum
Also find us on IRC.tl - IRC channels: #GamerX and #GamerX-Chat
Discord: 9sNPbjknXU